Fluidics
---
At our company, we specialize in designing and creating components that contribute to the development of innovative and efficient fluidic systems."
At IDEX Health & Science, we are dedicated to developing innovative solutions that enhance performance and optimize the fluidic pathway in life science instruments. Our team manufactures high-quality fluidic products that are used for a range of critical analytical tasks, including sample introduction, reagent handling, sample processing, and separation. We are committed to ensuring the success and efficiency of your flow path through the use of best practices such as creating cleanly swept flow paths with solid connections, implementing effective interface techniques, and designing for serviceability. Additionally, we have extensive experience working with a variety of highly engineered materials, which allows us to select the best material for critical locations in the flow path to ensure reliability. We are proud to partner with you to make your fluidic pathway as successful as possible.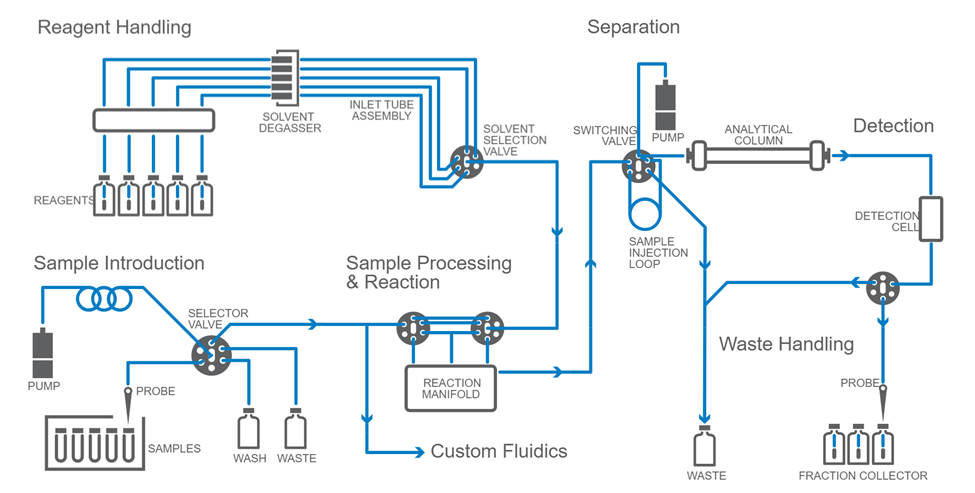 Reagent Handling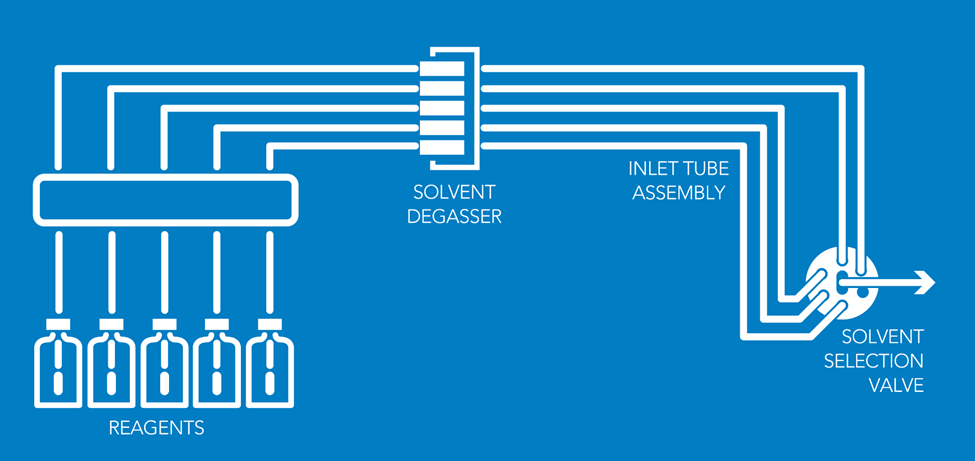 Liquid reagents are often crucial for the analysis of samples in various instruments. These chemicals serve a range of purposes, including dissolving, conditioning, reacting with, transporting, depositing, positioning, or modifying the sample in preparation for analysis. However, instruments can vary greatly in the volume and number of reagents required, the chemical composition of the reagents, and the lifespan of the reagents.
Instruments can also differ significantly in how they control, segment, and direct the movement of reagents, as well as how they cycle between different reagents during the analytical process. The quality of the analysis often depends on how accurately and reproducibly the reagents are moved through the instrument, particularly in terms of the carryover generated between sequential reagent applications.
At IDEX Health & Science, we understand the importance of ensuring that fluids reach the right location at the right time and are removed when necessary. We are experts in preventing carryover and work closely with our customers to solve reagent retention issues. Our expertise in flow path design includes evaluating internal passageways, assessing the compatibility of wetted materials, and optimizing the geometric pathway – all crucial aspects that we consider in our designs. If you have specific flow path, design, or timeline needs, please don't hesitate to contact us.
Separation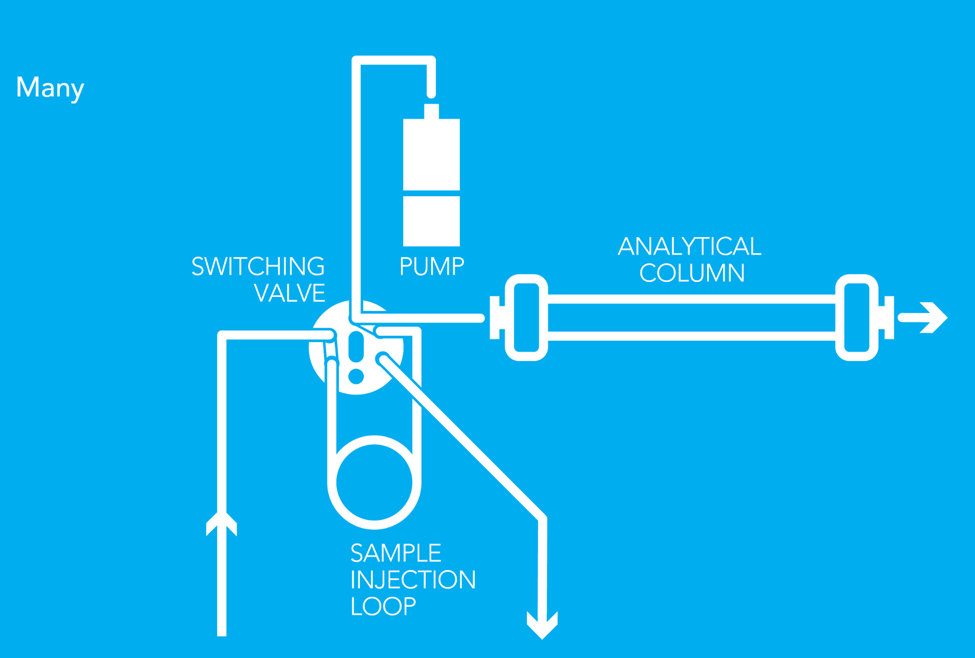 The accuracy of analysis often relies on the separation or purification of mixture components before they can be detected. This process is essential for obtaining accurate and reliable results in many analytical techniques.
Separation techniques, such as chromatography, solid phase extraction, and desalting, are essential for accurately determining the presence and concentration of analytes in complex mixtures and real-world samples. At IDEX Health & Science, we manufacture a range of components that support these separation techniques and are suitable for use in systems with a wide range of flow rates and fluid pressures.
Our team has extensive experience in designing components that can effectively separate compounds in flowing streams, as well as introduce small and diverse samples into fluidic pathways. We are familiar with the challenges associated with carryover and dispersion and have developed components that can withstand ultra-high system pressures. If you have separation needs, we have the expertise and products to support you.
Sample Introduction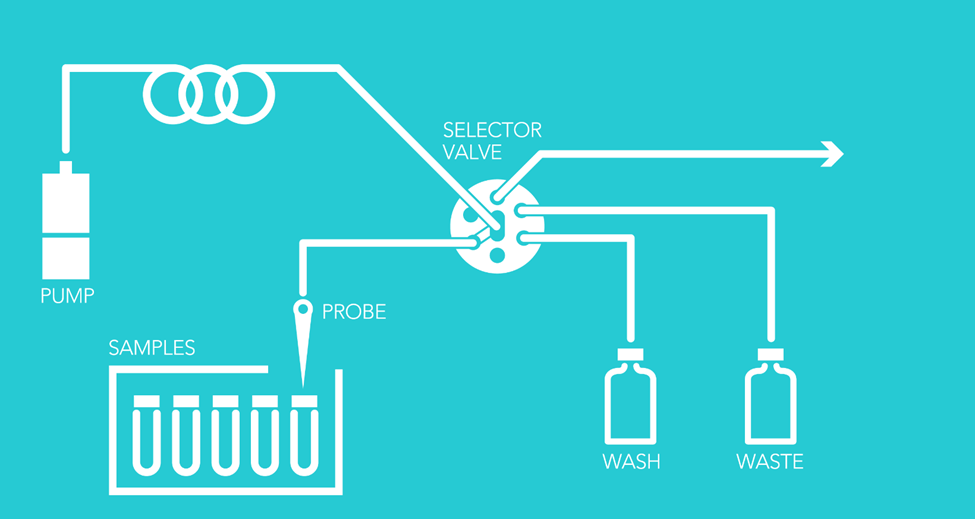 The analysis of many substances begins with a sample in liquid form.
The main objective of a sampling system is to transfer the sample into the instrument with minimal degradation in a reproducible manner. However, real-world liquid samples can vary significantly in their composition and properties, such as the available sample size, matrix components, viscosity, and the nature of the unknowns. These factors must be taken into consideration when designing the fluidics for sampling.
Given the diversity of sample types, it is not possible to have a one-size-fits-all solution for sampling. However, at IDEX Health & Science, we have extensive expertise in customizing fluidics for diverse needs and are a leading provider in our industry. We understand the challenges you may be facing and are committed to working with you as a partner to develop tailored sampling solutions.
Sample Processing & Reaction
In many assay procedures, a sample must go through a series of internal processing steps before it is ready for analysis.
During the processing of a sample for analysis, various steps may be required, including dynamic mixing, stirring, incubation, filtering, adsorption, elution, or heating. These steps may be performed in-line or through internal batch processing within the instrument, and careful control of experimental conditions, fluid volumes, and flow rates is crucial for reproducible results.
At IDEX Health & Science, we have a strong focus on solving sample processing problems in the analytical, biological, and chemical sciences. Our team is skilled in a range of technologies, including flow control, stream switching, flow path multiplexing, and chromatographic separation. We often incorporate a combination of electromechanical components, such as shear valves and pumps, and passive components like flow restrictors and mixing chambers, into our fluid path designs. We are innovators in optimizing and integrating multiple fluidic components to create reliable assays with high reproducibility.
Detection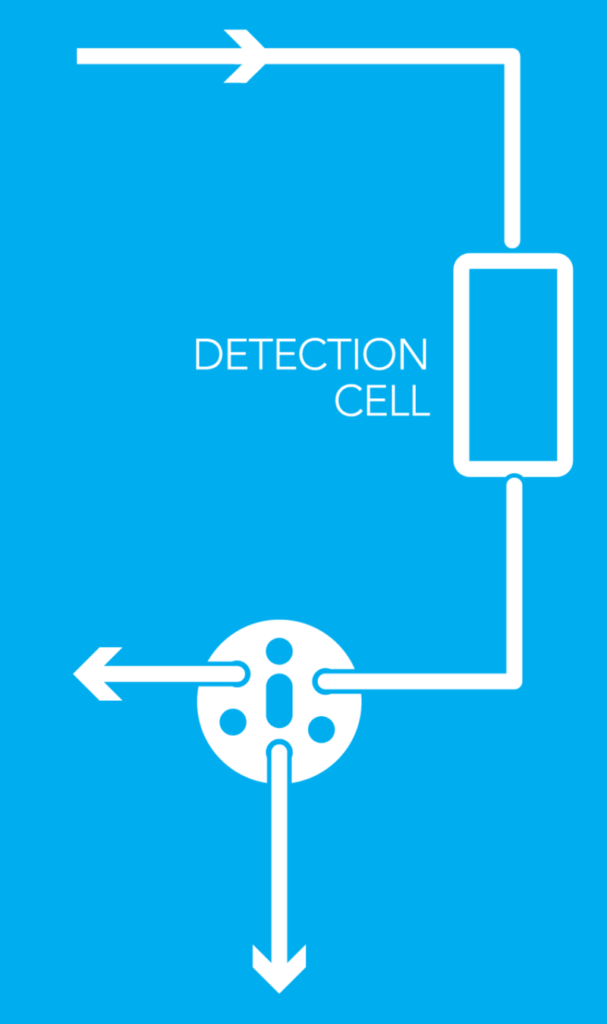 The identification, quantification, or further determination of sample components is a critical step in many analytical, life science, and biotech instrumentation processes.
IDEX Health & Science has played a significant role in optimizing detection methods in a variety of industries, including chromatography, mass spectrometry, flow cytometry, DNA sequencing, and hematology.
Our parts and even entire parts kits are often closely associated with the detection schemes of commercial analytical and diagnostic instruments. Some original equipment manufacturers (OEMs) work with us to modify our factory components to better suit their needs, while others require completely new configurations for their detection fluidics. Regardless of the specific requirements, our goal is to make your detection more efficient and reliable through robust and optimized fluidics.
Waste Handling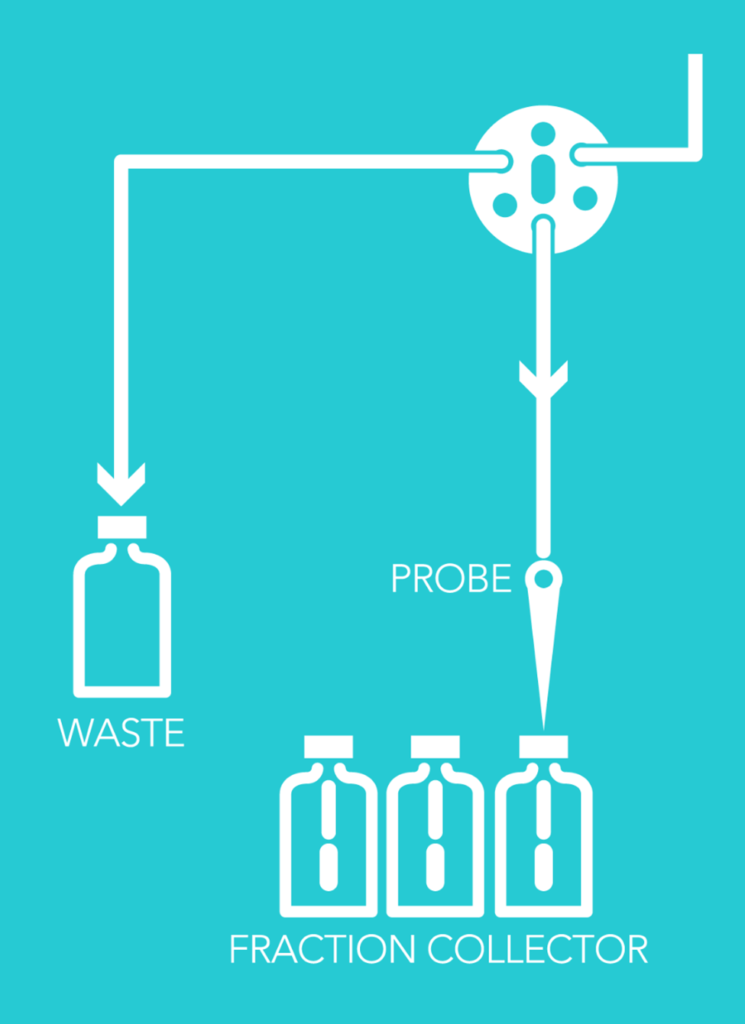 Developers often overlook the waste or output pathway of an instrument as a potential source of error.
The waste or output pathway of an instrument is often given less attention during the design process, and is only considered after other more "critical" design features have been finalized. However, issues in the waste pathway, such as clogging, pressure fluctuations, backflow, and air bubble issues, can significantly impact the reliability of the overall system if they are not addressed during the design and testing phases. In some cases, these issues can even prevent reliable analyses due to unforeseen problems in the waste pathway.
At IDEX Health & Science, we work closely with OEM developers to properly select and integrate components in the waste pathway to ensure smooth operation and reliable performance. We understand the importance of considering the waste pathway during the design process and are committed to helping our customers achieve the best possible results.
Custom Fluidics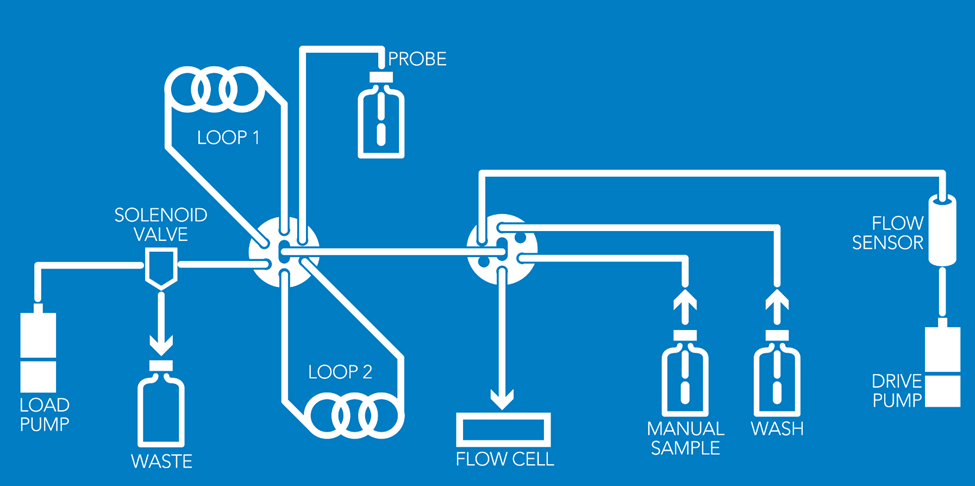 IDEX Health & Science specializes in providing custom fluidic solutions for a diverse group of original equipment manufacturer (OEM) partners.
At IDEX Health & Science, we work with a diverse group of OEM partners in a range of capacities, from "make-to-print" to designing entire assemblies based on customer specifications. Our focus is on design for manufacturability, with an emphasis on improving reliability, preventing leakage, minimizing carryover, and enhancing usability.
We have the capability to create entire integrated subsystems to solve fluidic problems or to provide less-integrated but highly-engineered components to address smaller challenges. Some of the advantages of partnering with us for custom fluidic solutions include our expertise in modeling, layout, and design of fluid pathways, as well as our understanding of the limitations imposed by phenomena such as adsorption and mixing. We are committed to working with our OEM partners to find the best solutions for their fluidic needs.
Point of Care Diagnostic
Bringing Patient and Diagnosis Closer Together
Point-of-care (POC) diagnostic testing is a type of medical testing that is performed at or near the location where the patient is receiving care, rather than in a traditional clinical laboratory setting. This allows for quicker results, enabling healthcare professionals to make informed decisions about the patient's diagnosis and treatment. Microfluidics is a key technology that enables the development of POC diagnostic devices by allowing for the manipulation of small volumes of liquids and the performance of all assay steps on a single device. IDEX Health and Science is a leading OEM supplier of microfluidics technologies, with proven expertise in the development of functional Sample-to-Answer solutions for POC diagnostic devices. Our manufacturing facilities are ISO13485 certified and equipped with over 20,000 sqf. of clean-room space, enabling us to produce devices to the highest industry standards and healthcare regulations. We also offer the option of shipping devices directly to customers with branded packaging.