Thermal Controller Maximum temperature: 600?
Size: W 390 x D 180 x H 163 mm
Weight: 3.4 kg
Control Box:
Size: W 321 x D 220 x H 147 mm
Weight: 4.1 kg
Heating Tube Maximum temperature: 200?
Control Box:
Size: W 320 x D 200 x H 123 mm
Weight: 2.9 kg
Power Source AC100-240±10V (50/60 Hz)
Heating Control Temperature Room temperature -600?
Use Temperature Environment 10? ~ 40? (no condensation)
Electricity Consumption Operation State: AC100V 320W AC240V 336W
Stand-by State: AC100V 32W AC240V 101W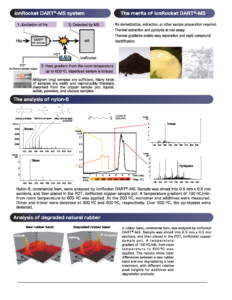 Publications
2019
Ball, P. (2019). Development of a DART-Mass Spectral Database for 3D-Printed Firearm Polymers, and Airborne Mercury at Three Lakes in North Mississippi (Doctoral dissertation, The University of Mississippi).
Bridge, C. & Marić, M. (2019). Temperature-Dependent DART-MS Analysis of Sexual Lubricants to Increase Accurate Associations. J. Am. Soc. Mass Spectrom.
Barnett, I., Bailey, F. C., & Zhang, M. (2019). Detection and Classification of Ignitable Liquid Residues in the Presence of Matrix Interferences by Using Direct Analysis in Real Time Mass Spectrometry. Journal of Forensic Sciences.
2018
Cody, R. B., & Fouquet, T. (2018). "Reverse Kendrick Mass Defect Analysis": Rotating Mass Defect Graphs to Determine Oligomer Compositions for Homopolymers. Analytical chemistry, 90(21), 12854-12860.
Price, E. R., McClure, P. J., Jacobs, R. L., & Espinoza, E. O. Identification of rhinoceros keratin using direct analysis in real time (DART) time‐of‐flight mass spectrometry (TOFMS) and multivariate statistical analysis. Rapid Communications in Mass Spectrometry.
Abe, H., Takei, C., Sakakura, M., Yajima, D., & Iwase, H. (2018). Comprehensive Drug Screening by Thermal Desorption and Pyrolysis Combined with Direct Analysis in Real Time-Mass Spectrometry (TDP/DART-MS). Analysis of Drugs of Abuse (pp. 115-124). Humana Press, New York, NY.
M Maric, J Marano, RB Cody, C Bridge (2018). DART-MS: A New Analytical Technique for Forensic Paint Analysis. Analytical chemistry