To operate the C10 you need a diaphragm vacuum pump. Please contact us for more details. C10 is compatible with 1.5 mL (P1), 6 mL (P2), and 20 mL (P3) vials. The corresponding spiral plug sizes fit vials with inner diameters of 4~7 mm (C10L-P1), 7~11 mm (C10L-P2), and 11~17 mm (C10L-P3). For more details please check out the specification chart below. With the C10 you can run up to 10 samples at once. If you do not want to run all 10 samples together, you can just attach a sealing plug without the spiral plug.
Product Name: Smart Evaporator C10
Color: 2 colors (Sun. Sky)
Size: (mm) (W) 350 x (D) 300 x (H) 531 – protruding parts not included
Weight: 20 kg
Temperature Control Block Size Circle type: Ø 11.7. Ø 18. Ø 27
Vial Holder Size: CEV10L-VH-P1: 1.5 mL, CEV10L-VH-P2: 6 mL, CEV10L-VH-P3: 20 mL
Spiral Plug Size: C10L-P1 Inner diameter of vials (4 ~ 7 mm), C10L-P2 Inner diameter of vials (7 ~ 11 mm), C10L-P3 Inner diameter of vials (11 ~ 17 mm)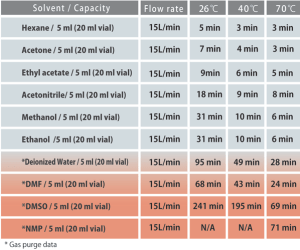 Using the Smart Evaporator, even high-boiling point solvents can be evaporated quickly and effectively; Remove DMSO in under 70 minutes and DMF in just 24 minutes*.
*5mL in a 20mL vial at 70°C with nitrogen purging at 15L / minute flow-rate