DEBUBBLING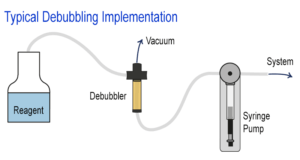 A debubbler is a superb tool for removal of visible bubbles from water flow streams not containing organic solvents or detergents. Bubbles in system liquids cause dispense volume anomalies in many instruments and may have severe impact on both dispense precision and analytical accuracy. Biotech's patented active debubbler design includes a vertical bubble trap, plus a gas-permeable membrane, and a vacuum source.
TRANSFER-LINE DEGASSING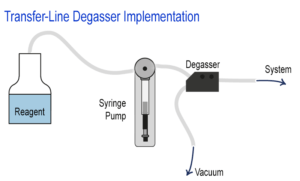 In equipment where minimized internal volume is critical, a debubbler may not be the optimal choice. For such situations it is possible to prevent bubble formation by actively degassing the systems fluid in the transfer tubing itself. Biotech's transfer-line degasser employs a unique
DEBUBBLING AND DEGASSING COMBINED

For liquid dispensing applications, removing both bubbles and dissolved gases from the flow path improves precision and accuracy, thereby further enhancing overall system performance. By combining active bubble removal with transfer-line vacuum degassing, the Biotech combined debubbler-degasser eliminates existing bubbles and prevents the formation of new ones by also removing the dissolved gases before they can nucleate and form new bubbles.